Most of my photography has been landscape, mainly because trees and mountains don't move very fast – allowing time to focus. I am attracted to scenes of high contrast and search for subtle interrelationships often in geometric or mathematical ratios. Pure nature shots are attractive but the interaction of man with nature is more interesting in most cases.
Avenue, Ft Collins, 1999
Abstract photos remain the most challenging and rewarding from an intellectual standpoint. To discover the innate beauty within a mundane scene is the ultimate challenge in black and white as well as other types of photography.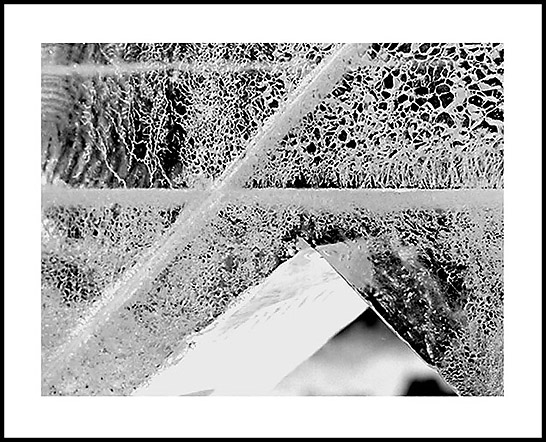 Ice Sculpture, Vail 1999
However, a large number of my favorite shots are of family and friends captured at that opportune moment. Informal portraits of friends are enjoyable happenings.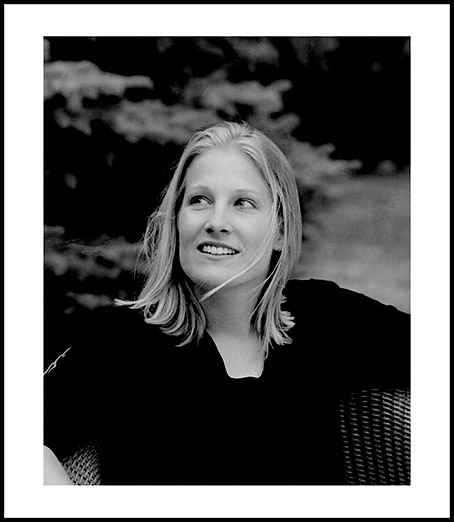 Lea Grant, daughter of good friends, Lee and Patty, 1999
I started doing black and white photography in 1970 while a medical student at the University of Colorado. My first camera was a Minolta SRT 101, a fully manual 35 mm. It is still in excellent condition and has never required repairs.
I rented space at a commercial darkroom and purchased a number of basic photography texts such as the Time-Life Series on photography. The director of the dark room and several friends also provided invaluable instruction. I later purchased a Nikon F2 which has been used for many years until moving up to a medium format Pentax 6x7 in 1998.
I purchased a large format 4x5 camera in May 2000 and have been learning many new and ingenious ways of ruining perfectly good film and photographic paper. Fortunately, there have been some successes in this format….. with hopefully many more to come.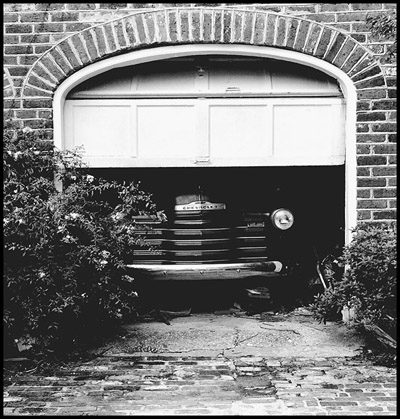 A One-Eyed Chevy in Charleston, August 2000 (4x5)
During the 1970's I did black and white almost exclusively, setting up darkrooms in England where we lived from 1975-76 and in Monterey, California until 1986. While in Monterey, several of Ansel Adams' staff were patients of mine. His proximity was stimulating. A most treasured possession is his 1984 calender which he personally signed to my wife and I.
Color photography lured me away during the 80's, ( Kodachrome transparencies mainly). This was an excellent medium for recording the early years of our three sons born in 1978, 1980, and 1986.
I returned to black and white in a serious fashion in 1997 during a lengthy recovery from rugby injuries to my neck and right knee. The creative stimulation of darkroom work has been an excellent counterbalance to the stress and challenges of medicine.

With the encouragement of many friends, and running out of wall space to display my prints, I decided to try selling my photography. The ultimate test of the quality of one's artwork is the ability to sell it. To date, this challenge has been successful beyond my expectations. It has been my pleasure to donate many prints to charity auctions and other non-profit organizations.
A large area in the basement of my office has been converted into a gallery and darkroom. I continue to practice medicine full time, but in the last year have been spending more time on this increasingly enjoyable adventure.
Although I have no formal training in photography, it has been my fortune to meet and learn from other talented individuals in the last 30 years. In any discipline there is an immense body of knowledge carried in our collective consciousness. "Self-taught" is a misnomer in the field of photography. In the last several years, the Internet has been an excellent source of information. In particular photo.net and photocritique.net have been very helpful and interesting sites. (See links.)
This site is dedicated to my wife, Pam and three sons, Rick, David, and Weston. Their support and encouragement have been invaluable. I also dedicate this to the memory of my late parents, Warren and Frances, and my brother Mike, a 1967 West Point graduate who was killed in an accident on the DMZ in Korea in 1968.
Enjoy your visit.
Art Sands